Posted in
Opinion
on May 20th, 2010 by byronkho
Google makes spying easy: Audit API. How's that for Big Brother? Google isn't the thought police but your boss will be when they start paying for Gmail for Business services.
I'm excited about the fall lineup, though I'm heartbroken that Law and Order, Cold Case, Flash Forward, The Forgotten, Raising the Bar and Heroes are axed. Okay, not Heroes… but I did kinda hope they could have made it end less lamely. Flash Forward was an honestly exciting show and I'm pissed there's not another season to develop it. Forgotten was just another crime show, but it had some appealing faces… yea, some hot chicks (Elisha Cuthbert too!) but also the weird artist dude and the homely repairman. Gonna miss seeing him. Raising the Bar was a quality law show… too bad law shows these days are a no-go. New stuff? Nikita reboot (hot… perhaps), Terra Nova (Spielberg and Land Before Time!), Ridealong (crime fix), Off the Map (okay, I'm not excited about a new medical drama, but it has Caroline Dhavernas in it… Wonderfalls has gotta be the best show of all time, and sadly, died before anyone noticed. Her stint as a crazy nurse's aide killing with her boyfriend on Law and Order CI: genius.), Blue Bloods (a dynastical cop show? Please!), The Defenders (could suck… law in Vegas? But it has Belushi?), Chase (Bruckheimer and crime, YES), The Cape (regular guy turns superhero, and Summer Glau? As much as I love her, she's killed a bunch of shows already.), The Event (replaces my Flash Forward fix, hopefully), and JJ Abrams doing his thing again with Undercovers (tho Mr. and Mrs. Smith has been done… how will it go over as a whole season?). Finales: Greys Anatomy and Private Practice have pretty large audiences, meaning they'll come back. As I didn't like the setup for PRivate Practice and thought GA went downhill immediately after season 2… I would like to see them cancelled in favor of better shows? But I guess they still have a (mostly female) audience… grumble grumble. Thank god Survivor didn't win most viewers… prize goes to the Mentalist, followed by CSI. Two solid shows getting seen rather than the tripefest that's Survivor. I can't wait to see the rest of the finales (just finished Castle and that was a pretty good way to wrap the season).
UPDATE: OMG, Law and Order might be coming back – to TNT!
Also: Futurama going back to Comedy Central for a 22 episode run! HOT! Let's hope this revival sticks, Family Guy style.
Good movies! Saw The Good The Bad The Weird the other day. A Korean Western… really well done, I gotta say. Storytelling wasn't crippled like it usually is in Asian movies, though Korean movies haven't been the worst culprits for story fail. The action scenes were exciting, the still of the desert came across and the Western motif was respected throughout. A few conessions to martial arts movies, but for the most part a good old-fashioned blazing guns justice Wild West style. Of course, it's set in Mongolia against the backdrop of Japanese occupation into the Chinese hinterlands, a privilege the Koreans had in centuries past but lost. A historical session Koreans will know but a lot of North Americans will be clueless about. The "sheriff" dude is well-cast, as is Finger Chopper. The cool guy has nothing to do but strut, the only weak part of the movie – but can't really blame him for something the script doesn't have for him. I got to check out Winter's Bone as well. It won Grand Jury prize at Sundance, and was well-deserving. A 17-year old girl has to support her 2 siblings and a mentally-ill mother, while her crank-cooking dad is off somewhere. The sheriff tells her that her dad set their house as his bond, and if he didn't show up in court, they'd lose everything – so look for him she does. It's a gripping tale – not because much happens, but because the mannerisms, the suspicion, the family bonds (or lack of)… speak to a world we city people know exists but know little about. There were some mutterings when the sister shows her little siblings how to shoot squirrels, and then proceeds to gut the squirrel on camera. The brother asks what parts they're gonna eat. If you're a hunter, and are hungry, then shooting and skinning an animal ain't no big deal. And of course, there's the economic depression of the entire area that forces everyone to become meth and crank cookers and dealers. And how the Army is seen as a way out but the realization that responsibility should play a bigger role than easy opportunities… at once saddening and enlightening, but also heartwarming. Not in some Hallmark movie way, but in that the main character takes the hard road, and makes very responsible decisions in an impossible situation, at once earning the respect of everyone she is in contention with and everyone watching her, aka me. It's too bad both of these movies are gonna get seen by old people who have nothing to do, film festival geeks who watch everything anyways and basically no one else.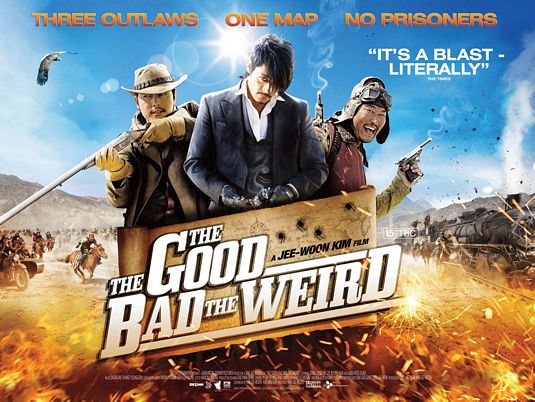 Tags:
Caroline Dhavernas
,
Elisha Cuthbert
,
Google
,
Off the Map
,
Ridealong
,
The Event
,
The Good The Bad The Weird
,
Winter's Bone