Posted in
Opinion
on June 29th, 2010 by byronkho
1) Seth Rogen is the Green Hornet. Harrumph. He definitely needs Kato on this one – adds the only, sure, I can believe that, edge to the movie.


2) Chris Evans as Captain America… hmm… sure.
3) Kenneth Branagh is directing Thor? Granted, it has huge buzz. But Branagh? Hamlet? Thor?
4) They're working on a Planet of the Apes prequel. Not necessary.
5) I don't know if they are still working on it, but back in 2008, Sacha Baron Cohen and Will Ferrell were announced as the new stars of a Sherlock Holmes franchise. Worst idea ever.
6) Steve Carell is leaving the Office after next season.
7) Iron Sky looks fantastic. These are the Finnish guys who put together a fake trailer of Nazis who fled Earth at the end of WWII in flying saucers and are back to ravage Earth – after crowdsourcing the funding, they're filming now. Good SFX on those fake trailers… on zero budget. Hooray for independent types! Though true, their donation funding on the movie would not have been possible in the US.
8 ) MJ's zombie rears its head: Captain EO coming back to Epcot in Orlando (after already doing so in California). I remember seeing Captain EO as a kid. I'm not sure it should come back (as I remember it being kind of terrible)… but I guess it has lots of street cred: MJ himself, Francis Ford Coppola directing, George Lucas writing and producing. Also, most expensive movie of the 80s. Cost $17 million, or $1 million a minute. Many people have noted that Top Gun cost $15 mil, and that had real JETS in it.

9) Because MGM is having financial woes, many movies are being thrown into limbo. Including the next Bond. And Guillermo del Toro doing the Hobbit – he can't wait that long for MGM to fix itself up and get him some money.


Bond 22 redux.
10) New Oz remakes look LAME. Get Spawn back on the job!
11) Meet the Parents 3: Little Fockers. WTF. Stop making these.
12) GOOD NEWS: Paul W.S. Anderson and Three Musketeers: Ray Stevenson, Luke Evans, Matthew MacFadyen as the Three Musketeers; Christoph Waltz as Cardinal Richelieu; Mads Mikkelsen as Rochefort; Milla Jovovich as Milady de Winter (!). Logan Lerman (Percy from Percy Jackson… never saw this, no idea if he's any good) as d'Artagnan. Casting looks super awesome.


Oops, this is the straight-to-bargain-bin exploitation version.
13) Spiderman 4 has no Sam Raimi or Tobey Maguire. Fail. No reboot please.

14) I don't mind 3D releases… but please continue offering the 2D options. Don't force everybody to see the 3D one so theaters can rapeage our pockets and everyone can go home with motion sickness and headaches.
15) There's an X-Men prequel coming out, covering Magneto and Prof Xavier's younger days. James McAvoy stars. I'm half-sold because of McAvoy but the IDEA just sounds like it'll be horrible terrible.
16) RT: Amanda Bynes is into black guys.
17) Megan Fox (married in Hawaii!) out, Micaela Johnson in. Is it insulting for the girl role to have no name except for "Sam's Girl" on the IMDB page? She does have a vague somewhat resemblance to Megan so the difference is not retardedly jarring.


Her being Miss USA 2008 helps out?
18) A Very Harold & Kumar Christmas. Thank you, Santa!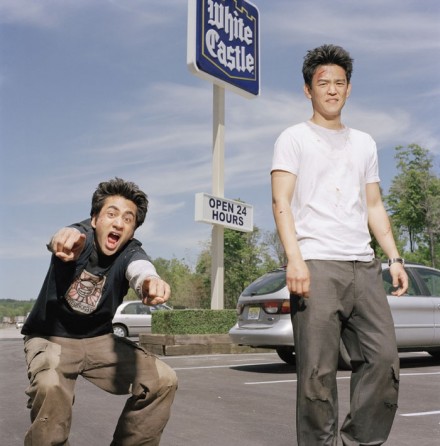 BTW, White Castle blows.
19) Scream 4 has Cheerleader, Igby (Goes Down), Nancy Drew. Dewey is the new killer. Filming in Ann Arbor? Perhaps BKII could make a cameo.
20) Paranormal Activity 2 the what what.
21) Pirates 4 the what what.
22) Footloose the what what. And when I say what what, I actually mean freaking hell, were they on crack, please burn the script and bury the bodies. Now.
Tags:
A Very Harold and Kumar Christmas
,
Captain America
,
Captain EO
,
Chris Evans
,
Christoph Waltz
,
Green Hornet
,
Iron Sky
,
James McAvoy
,
Kenneth Branagh
,
Mads Mikkelsen
,
Megan Fox
,
Milla Jovovich
,
Pirates 4
,
Scream 4
,
Seth Rogen
,
Steve Carell
,
Thor
,
Three Musketeers